We are eager to provide analytical and test services which are custom-designed to solve your materials problems efficaciously. Much of our analytical work uses custom and in-house proprietary analytical methods. We can do this because we have an unusually intelligent, independent-minded, dedicated, and well-educated professional staff:
Ph.D. in Materials Physics with 46 years experience in surface analysis and chemistry, thin films, coatings, corrosion, adhesive bonding failures, and other materials issues
Ph. D. in Materials Science and Engineering and ex-Adjunct Professor in the Dept. of Chemistry and Physical Sciences at Stevenson University with 25 years experience in corrosion, electrochemistry, metallography, and other materials related areas
Ph. D. in Chemistry with 11 years experience and extensive work in nanoparticle, polymer, FTIR, thermal analysis, surface analysis, and general chemical analysis.
Following suitable discussions with our customers, we constantly try to offer the appropriate analytical plan and reporting:
Custom analysis procedure or a standard procedure such as the ASTM standard testing methods
Combine multiple analytical techniques to learn far more about your materials problem than is possible with any one technique
Integrate the experience, knowledge, and thinking power of our staff on your project
Cost effective project planning
Analyze your data with the insight of years of experience with many materials processed in many ways for many applications and used in many environments
We will work to the level of certainty appropriate to your needs. Higher levels of certainty generally require more time and expense and we realize that time and expense are limited.
Reports and discussions appropriate to ensure that the analytical results will solve or help solve your materials problem and serve to document it for the future, since problems often repeat themselves and processes need to be further improved over time
Rapid response, bearing in mind that your emergency should also be our emergency
Protect your proprietary and confidential information
Remember that you are a cut above others, because you had the wisdom to work with us. Our experience has borne this assessment out repeatedly
Finally, as our customer, you play many vital roles in our joint effort to solve your materials problems:
The background you provide on the materials, the processing procedures, and on the past history of problems can make a huge difference in the likelihood of solving the problem in a timely and cost-effective manner.
Your description of the problem bears strongly on the accuracy of our quote or estimate, so you need to have some sense that many materials problems are far more complicated than may seem at first to be the case and provide us as reasonable a description as possible.
You most often select the sample which is representative of the problem. This is a critical task, but this is not always easy to do well.
The sample must be handled, packaged, and shipped in an appropriate manner, so it will not become contaminated or undergo changes.
Please coordinate with us on when your samples will arrive and on the urgency of your problem. It helps us to give an emergency response to those jobs that need it if customers will level with us on when they do and when they do not have an emergency. Please be considerate of others emergencies, so we can respond to your real emergencies in the same manner.
You must be willing to ask questions about anything in our reports and discussions which you do not understand, which also makes it easier for us to ask you questions about your material, your processing, your past experience of possibly similar problems, and correct any misunderstandings we might have about your materials or processes.
We are reality-dedicated scientists and engineers who love solving real-life materials problems. We expect our clients to be willing to face problems and not to ask us to cover them up. We always have and always will refuse to do so. We will also remember that your problems are proprietary.
Give us feedback to our reports and discussions so that we can do a better job both in the present task and in our future work with you, such as how our results combine with additional knowledge you have to provide still more understanding of your materials or how we might have done a better job. Of course, we are overjoyed to hear how our work may have helped you.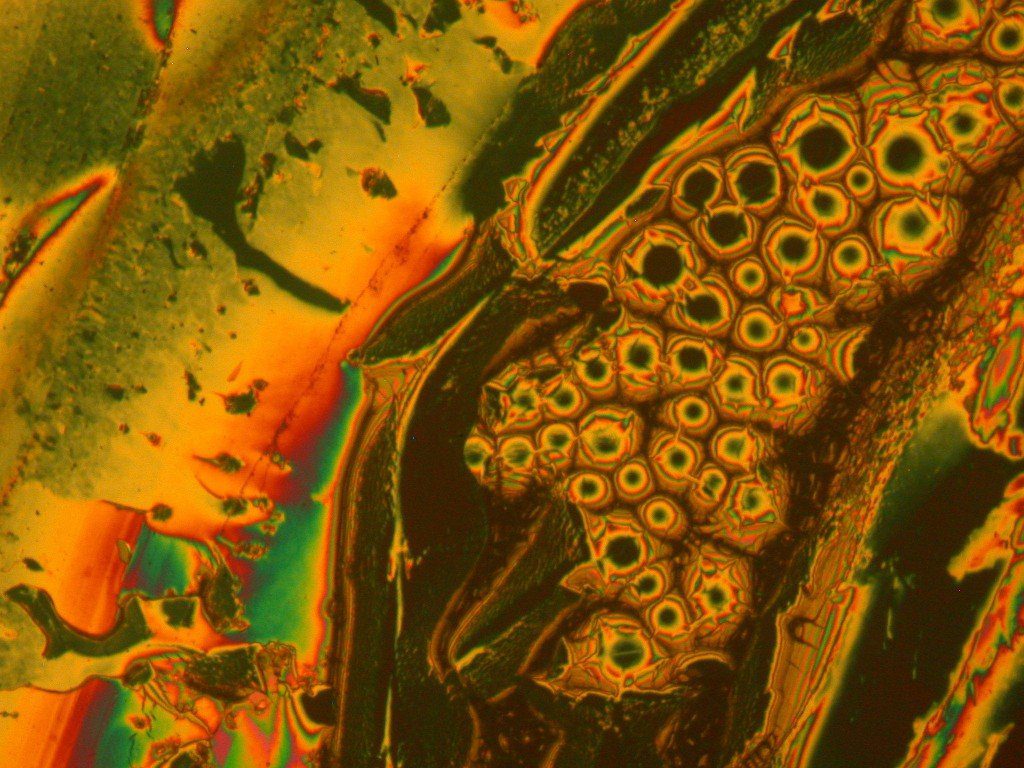 Damage in an anti-reflective coating caused by chemical attack when cleaning of the high-value optical element was attempted as revealed by Nomarski phase interference contrast optical microscopy.